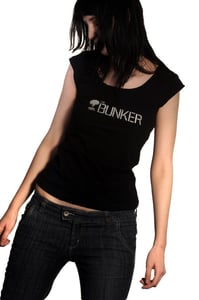 $

20.00
Limited edition t-shirt. Silver Bunker logo hand silk-screened on a black American Apparel women's scoop neck t-shirt.
A unique and reversible top – featuring a scoop neck on one side, and a scooped boat neck on the other – allowing you to wear the logo in either direction.
- 100% Sheer Jersey cotton construction
- Merrow® stitch hem
- Cap sleeves
- Form-fitting
Limited edition of 100 shirts.
Sorry no returns or exchanges.
Shirts are mailed with free metallic Bunker bumper stickers!